NYT Holiday Books Edition Features Author Vil S. Mirzayanov's 'State Secrets'
or five
Outskirts Press
authors, this is proving to be a very exciting time of year — when their books appear in the annual the
New York Times
Holiday Books Edition. Published each December, this edition of the NYT Book Review is a special edition co-op ad that places your book ad front and center. This special holiday ad represents a unique — and rare — opportunity to gain priceless visibility, just in time for the holiday book-buying boom.
The
New York Times
Holiday Books Edition is distributed to nearly 5 million people, and in the pages of that edition is the Outskirts Press co-op announcement (featured at the end of this blog post). Today we shine the holiday spotlight on author Vil S. Mirzayanov's non-fiction,
State Secrets: An Insider's Chronicle of the Russian Chemical Weapons Program.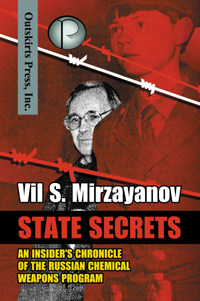 Long before there was the Syrian chemical weapons crisis of 2013, there was perestroika: In the 1980s, while Mikhail Gorbachev and others staunchly denied the existence of chemical weapons in Russia, the State Research Institute of Organic Chemistry and Technology in Moscow was developing that very thing. It was scientist Dr. Vil Mirzayanov, chief of the Counterintelligence Department, who was responsible for developing methods of detecting extremely minute in the environment surrounding the institute.
State Secrets takes a startling insider's look at the Russian chemical weapons program, and draws a direct connection between it and Syria. Mirzayanov was in a unique position to gather intelligence about these weapons, including their precise chemical makeup, and was the first whistleblower to reveal the Russian chemical weapons program to the world.
Mirzayanov's book provides a shocking, up-close examination of Russia's military and political complex and its extraordinary efforts to hide dangerous weapons from the world. State Secretsshould serve as a chilling cautionary tale for peoples and governments the world over, and serve as a guide on which defense and chemical weapon antidotes can be based.
ABOUT THE AUTHOR:
Born in 1935 in a rural village in rural Bashkortstan, Russia, Vil Mirzayanov was the son of the village school teacher. He distinguished himself as a chemist, and over a 26 year period worked at the State Research Institute of Organic Chemistry and Technology in Moscow, which was the main developer of chemical weapons in Russia. At some point during the 1980s, Dr. Mirzayanov came to the conclusion that chemical weapons were unnecessary for his country's defense, and dangerous for people near the manufacturing and storage sites. During perestroika, the chemical weapons program was going ahead at full speed, while President Gorbachev and others denied its existence. Dr. Mirzayanov tried to change things through the usual channels at his institute, but was rebuffed.
In 1991, he published a short article in "Kuranty," hinting at the chemical weapons program. No one paid attention — except his employer and the KGB. He was fired from his job. In the fall of 1992 Dr. Mirzayanov gave an interview with "The Baltimore Sun" and co-authored an article in Moscow News. In October, he was arrested and sent to Lefortovo Prison charged with revealing state secrets. He never gave any formulas or protocols for synthesis of the super deadly new class of chemical agents he referred to, called "Novichok" or newcomer at that time. Though he was released 11 days later, he remained under house arrest until his trial in January 1994.
The closed-door show trial attracted a great deal of international attention and the support of many scientists and human rights advocates all over the world. Dr. Mirzayanov became the first person in 70 years to sue the Russian government, including the Procurator General's office, the KGB and his institute. He won a 30 million ruble award, later overturned by an appeals court.
In 1995, Dr. Mirzayanov immigrated to the United States and wrote this book about his life and experiences within the Soviet/Russian chemical military complex. He has received the 1993 Cavallo Foundation Special Award for Moral Courage, the 1994 Heinz R. Pagels Human Rights of Scientists Award of the New York Academy of Sciences and the 1995 American Association for the Advancement of Science (A.A.A.S.) Scientific Freedom and Responsibility Award.